quickfilters
QUICKFILTERS PRO
Now you can support the future development of quickFilters and save money while enjoying unlimited Premium Features. Install quickFilters version 3.4 or higher and then click the Buy License item from the quickFilters Pro tab on the Options dialog: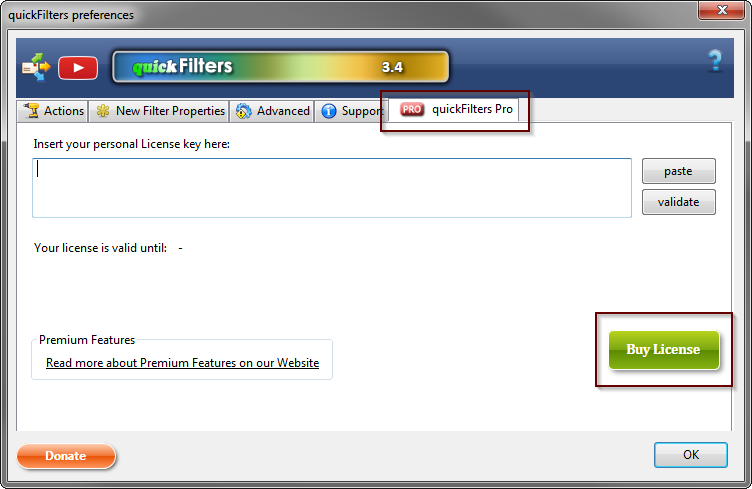 It's the easiest way to get a license as you get to select an email address for registration and delivery. If you prefer, you can also go to the web shop directly: FastSpring Web Shop
I have kept the process as simple and hassle free as possible, and you can use quickFilters Pro on as many Thunderbird installations as you like as long as it has your registered email address on it. Also, the email address is not given to any third parties, it is only used for order fulfillment and license verification.
quickFilters Pro : Premium Features
Premium features are power functions which are an incentive for users to regularly support the quickFilters project through a yearly contribution, called quickFilters Pro license. My aim is that instead of very few people trying to carry the project with sometimes large donations to try involving more supporters. It is a lot of work to keep the project going and up to date with all the latest code changes which happen every 6 weeks on the Mozilla code base. Staying in sync with the three applications (Thunderbird, Postbox and SeaMonkey) and to support multiple platforms (Windows, Linux and Mac) and languages and writing support emails and fixing bugs is actually a lot of work. I would rather actually spend more time on this as opposed to maybe 6 to 12 hours / week, but for this it needs to be financially viable.
Premium Features Included
Here is a list of Premium features that are unrestricted to licensed users of quickFilters Pro.
For non-licensed users, the premium features may be restricted and when used display a notification bar in order to promote buying a license. I feel this is the best way as it gives you a chance to try them out and get an idea on what other great future functionality will be funded by supporters:
Premium Feature
What does it do?
Sort Filters
use this to sort all selected filters by alphabet. Be careful as the order the filters are displayed in is also the execution order. This means that you may have to rename some more specialised filters so they appear before more general ones (e.g. have the filter move to clients\Acme filter listed before the move to clients filter.)
Otherwise you may find your emails in unexpected locations: An email that has already been moved away from the Inbox will not be treated by the following filters.

There is also an option on the "New Filter Properties" tab that enables to insert new filters in alphabetical order. This will work best if the existing list of filters is already sorted alphabetically. This is becayse it will not "look ahead" beyond alphabetically lower entries and attempt to insert the new filter after them.

Sort Search Terms
Use this to sort all search terms by type and text content. This is helpful with filters that have many search terms. It is only available from quickFilters version 5.2 onwards, so it requires at least Thunderbird 78.0 to be used. Note that Thunderbird doesn't react well to filters with more than 100 terms (the editor may time out or hang and the filter may stop working), in this case consider breaking up the filter into multiple filters with less items. For a detailed desription on this function, see [issue 11]
Custom Templates
Custom Templates can be created from the Advanced tab of the quickFilters preferences dialog. These are new filter templates that can be used during the filter assistant process as choices for creating new filters. They will preselect & prefill some filter conditions based on a big number of mail attributes.




Custom Templates are stored like standard filters but are located in the "Local Folders" account and have the string "quickFilterCustomTemplate" in the start of their name. The rest of the name is what is shown in the assistant dialog.

Backup / Restore

[Available from version 3.5] - you can now save your filters for each mailbox to a file and load them later or transfer to a different Thunderbird profile. For technical reasons, currently old filters will not be overwritten - therefore unwanted filters should be removed manually after restoring to avoid duplication.

When transferring to a different profile, Custom filter actions (e.g. create with FilteQuilla) will only work if they are set up exactly the same on both profiles.

Search Folders for Filters
This command makes it possible to find all filters that move emails to a specific folder. this is especially helpful when mail is moved / copied across different mail accounts or into Local Folders. Right-click a mail folder from the folder tree on the left hand side of Thunderbird's 3 pane window and select Find Filters....

QuickFolders users can also add this button to the Current Folder toolbar.

Insert Copied filters to multiple accounts
This allows you to select a number of filters and copy them to different other accounts, repeatedly. This option can be enabled on the Advanced tab in quickFilters settings.
Find Duplicates
This is a button on the quickFilters toolbar in the Filters List which searches for various types of duplicates, such as filters that do the same thing (like move mails to the same folder) or have duplicate conditions. It is a great utility for tidying up unclear filters or even find filters that do unexpected stuff.
Local Inbox
Option to run filters on Local Folders Inbox automatically. With this new option, any emails that are moved to the Local Folders Inbox will be automatically processed again using the filters defined there. With Thunderbird out of the box this behavior cannot be achieved as there is no "Get new Mail" event on Local Folders. You can activate it on the Pro tab of quickFilters options.
Other Benefits of having a Yearly License
You know that you support the project and that the development and support will be continue. There is a huge amount of work involved not just programming and keeping quickFilters up to date but also supporting users, coming up with better ways of doing things, fixing bugs, and keeping quickFilters usable across various platforms and host programs (at the moment I support Thunderbird, SeaMonkey and Postbox). I am constantly helping people with using quickFilters and their mail program and how to get the most out of email on the desktop.
All notification messages that indicate premium features are omitted.
The donation screen (which is normally shown after every Update) is hidden.
Alternative Monetisation Models
There are quite a few software developers (and also some users) who believe that software should generally financed by advertisement or even by selling information about their users. I am firmly opposed to this way of making money as it impacts both productivity and privacy rights; also in the world of Email I would find this way of generating value deeply problematic - even if it was strictly opt-in. There is a lot of personal information in our daily mail and a lot of knowledge that is being stored and retrieved with this powerful tool.
One of the reasons for a personal Email Client on the desktop is the fact that we can store our data on our personal hardware and use it any way we like. On the other hand, if we use a web mail client (like gmail) we can never be sure whether the information is used otherwise and whether we get targeted with distracting information (be it by injecting advertisements or via targeted advertisement emails) - it is one of the goals of any mail desktop client to eliminiate these distractions as much as possible, and focus on one thing only: managing communication.
quickFilters is an especially powerful set of tools to harness this information and it will evolve and keep saving time and make your experience of mail more meaningful and intuitive.